Note: Color May Vary.
It can be shipped in any of the available colors.
We don't promise any color, Thanks 
Product Description:
Modern Style Bubble Guns the bubble machine gun has 10 bubble holes, which can blow hundreds of bubbles per minute. Adopts the appearance structure of Dolphin, the shape is fresh and the style is different, so it will become a unique bubble player, attract the surrounding vision,
Safe Material: The bubble gun is made of safe ABS material, safe for children, no leakage or overflow, very safe for kids and pets, children can carry the bubble gun with them and enjoy bubble chasing.
 Electric Fan: Remove the bubble head and turn it into a fan, the fan is made of ABS rotor blades, which is suitable for the safety of your children and pets.

 

When kids feel tired after chasing, they will feel very hot,

 t

he bubble gun can be used as a small fan, it will bring cool and comfortable wind.
BEST GIFT CHOICE: The unique design of the funny Gatling gun promotes the development of children's imagination and creativity.

 

Your child can carry this bubble cannon with him, which is a fun and interactive toy.

 

It can keep them entertained for a long time.
Easy to Use:

 

You have to insert 3 AA batteries (not included), and pull the trigger to make lots of bubbles appear.

 

Package includes 1 bubble gun, 1 basin bottle,

The size for the Gun is approx. 5 inches in length and it does come with 1 Bottle Solution, Thanks 
 
Endless bubble-blowing fun!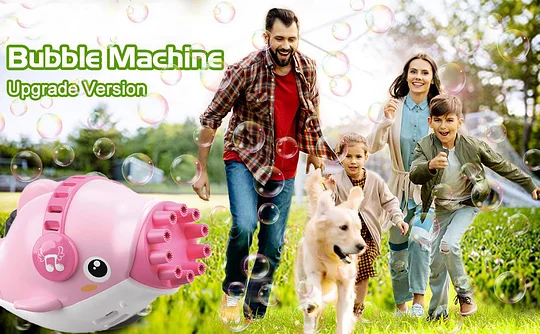 Bubbles have prices, happiness is priceless!  No matter adults or kids, they are always excited when they see bubbles. Bubbles can make the activities impressive.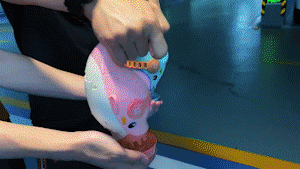 Perfect Dolphin Bubble Toys Gift
Super cute Dolphin shape, this bubble machine will be your kids' best friend as well. Perfect bubble toy gift for children's parties, birthday parties, baby baths, park, backyard, photo scenes, performance stages, wedding ceremonies, picnics, BBQ, etc.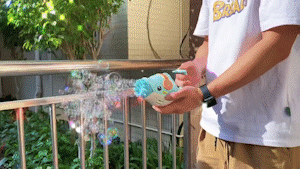 It's sure to keep kids and pets entertained for hours! And whether you're celebrating a birthday party, wedding, or other occasion, bubbles are just what you need to bring the party to life. Your pet will also fall in love with its new toy.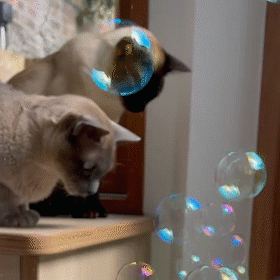 High Premium and Safe Material
This Dolphin bubble machine is made from high-quality ABS plastic with smooth edges and totally non-toxic elements of solution.100% kids' friendly,safe bubble toys for your kids and pets!
 
Color May Vary